By Rick Moran
According to

the New York Post, the Obamas have already had their Valentine's Day night out - on February 8. But the president decided to give himself a gift anyway - a trip to California ending up with a dinner at the posh Annenberg ranch in California with King Abudllah of Jordan.
On Friday afternoon he'll travel to Fresno, to discuss the devastating drought with farmers, and he'll finish off the day over a dinner with King Abdullah II of Jordan at Sunnylands, the Annenberg ranch in Rancho Mirage, Calif.




The President will remain at the desert retreat for a weekend of golfing.




The Obama ladies have separate plans for Presidents Day Weekend.




They will be "be away on their own travels," the

New York Times

reported.


The first couple actually already had their Valentine's Date, on Feb. 8, with a meal at Oyamel, a José Andrés

restaurant

in D.C.


In 2013, President Obama traveled to Georgia for a speech on Valentine's Day but arrived home in time to take his wife to Minibar, another José Andrés restaurant, in Penn Quarter.



By Katie Pavlich
In case you don't remember, Hollande is a full blown French socialist who deeply believes the only way to help the poor is by demonizing and soaking the rich. Hollande is currently moving forward with his plan in France to tax millionaires 75 percent after receiving approval from a court. President Obama holds similar views and has repeatedly told the rich they need to "pay their fair share" so that the rest of us can have a fair shot at life.
But it's difficult to take these positions seriously when the people taking them engage in the very lifestyles they claim to abhor. Take for example Michelle Obama, who wore a $12,000 Carolina Herrera designer gown to the state dinner earlier this week. Just a few weeks before the dinner, President Obama argued income inequality is a major problem facing our America. CNSNews noticed the cost of her dress is more than the average household income worldwide.
The blue and black designer dress that first lady Michelle Obama wore to Tuesday's state dinner for the French president reportedly cost between $10,000 and $12,000, according to news media, which is more than the median annual household income worldwide of $9,733, and greater than the median income for households in at least 87 countries, according to data from Gallup.
Just before the dinner, Michelle Obama tweeted out this photo of her dogs at the dinner table dining on crystal and fancy china.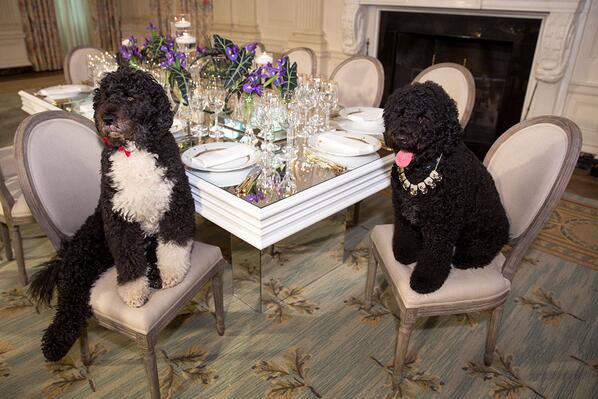 Let them eat cake, indeed.
When Michelle Obama walked out to greet the French President, the media swooned. NBC's Shawna Thomas declared "BOW DOWN!" on Twitter when she saw the dress.
HOLY CRAP LOOK AT THE FIRST LADY'S DRESS. #BOWDOWN
NBC is the same network that questioned Ann Romney for wearing a $900 designer shirt for an interview with CBS This Morning. The Romneys have donated more than $20 million to charity over their lifetimes and have worked for the majority of their lives in the private sector. The same cannot be said for the Obamas.
Here's my bottom line, I could care less how much Michelle Obama's gown cost. I'd love for every woman to have the opportunity to wear a gown like that in her life. Designer clothes are expensive because of the work that goes into them and I'm happy Caroline Herrera got paid for the work she did. Herrera reaped the reward of having a First Lady wear her art and product thanks to hard work. The issue is the Obamas and President Hollande lecturing the rest of us about how much money we should make, how we spend our money and how much of our money they are entitled to. People like Hollande and the Obamas are either elitist hypocrites or they don't really believe in the socialist policies they preach about and implement for the rest of us.
By Lanny Davis
"It was once said that the moral test of government is how that government treats those who are in the dawn of life, the children; those who are in the twilight of life, the elderly; and those who are in the shadows of life, the

sick
, the needy and the handicapped."
These words of the late Minnesota Sen. Hubert H. Humphrey have always best defined for me what it means to be a liberal Democrat. I still believe them to govern my political philosophy.
...What would Hubert Humphrey and Robert Kennedy say if they were alive today, about a government that uses credit cards every day to pay for all its programs and plans to dump all the receipts on the laps of its

children
and grand-children, expecting them to pay the tab?
I believe both men would regard such a government, unwilling to raise taxes and cut spending and reform entitlements to avoid passing the tab to our children, as neither moral nor liberal.
If you are a liberal, what do you think?