By Caroline Schaeffer
During a press conference on Tuesday, White House Press Secretary called 'freedom' a "buzzword." He was discussing Obamacare's effect in lessening work hours because it lowers the hourly threshold an American must work in order to obtain health care.
It's not anything but an added choice that they have that allows them more freedom, to use a certain buzzword, more choice.
Freedom isn't a buzzword. It isn't something you laugh off. It is something to be taken seriously. If they are willing to laugh at the 'buzzword' freedom, this proves that the Obama administration and its microphone Jay Carney don't take freedom seriously enough.
By Wynton Hall
Under President Barack Obama, the United States debt has increased $6,666,142,606,010.53, according to the latest figures from the Treasury Department.
On Obama's first day in office, the national debt stood at $10.6 trillion. Today, America's debt stands at $17.2 trillion.
Credit: CNSNews
As CNS News notes, Obama has accumulated more debt than the nation racked up in its first 227 years of existence.
...If we've reached the stage of welfare-state decadence where it's a selling point for a new entitlement that it discourages able-bodied people from working, there's no reason to keep going. We've lost, decisively.
As a great man once said, remember me as I am — filled with murderous rage.
In a statement and conference call featuring top administration officials, the White House tried to beat back an emerging narrative that the CBO report supported claims made by health care reform critics. The CBO report says the Affordable Care Act could lead to a reduction of 2 million full-time workers between 2017 and 2024. The CBO says the reduction would not come via fewer available full-time jobs (as critics of the law have alleged) but "almost entirely from a net decline in the amount of labor that workers choose to supply."…




"To put that in context, I have no doubt that if we eliminated Social Security and eliminated Medicare, there would be many 95-year-olds that would choose to work more hours than they're working today just so they could survive, feed themselves and have health insurance," the official said.




The CBO's projected reduction in full-time workers, then, "shouldn't be a significant cause for surprise and it reflects the fact that workers have a new set of options and are making the best choices that they can choose to make for themselves given those options," the official said.
In other words, it's not that employers will be offering 2.5 million fewer jobs. It's that ObamaCare, by subsidizing low earners and expanding Medicaid for the very poor, will incentivize 2.5 million people not to work. Or, if you prefer:
Steven Dennis




The message from this WH presser: ACA gives workers more choices, including the option to work less.
Billions upon billions of dollars in economic productivity up in smoke as workers who've stuck with their jobs for the health insurance quit and take a subsidies check from Uncle Sam instead. To the White House, which otherwise bleats about "growth" at every opportunity, this is a feature of the law, not a bug. WaPo's fact-checker even rushed out a piece this afternoon in defense of their position. The law's not destroying 2.5 million jobs, says Glenn Kessler, it's merely inviting 2.5 million employees to quit.
Congress's budget office says ObamaCare will increase unemployment.
...CBO's job-loss prediction is all the more remarkable because it doesn't include the impact of ObamaCare's employer mandate, which requires businesses with 50 or more full-time employees to offer insurance or pay a $2,000 penalty for each worker beyond 30 employees. CBO more or less punts on the issue because the White House delayed the mandate for a year and the changes would be hard to model. But this means CBO is probably still underestimating job losses because common sense says that labor mandates raise hiring costs and induce businesses to hire less, or pay lower wages, or slash hours, or all three.
Too bad this reality isn't permeating the liberal force field of thinking only positive thoughts. "Claims that the Affordable Care Act hurts jobs are simply belied by the facts in the CBO report," the White House declared Tuesday. By "facts," the White House seems to mean that the report is positive because "individuals will be empowered to make choices about their own lives and livelihoods" and "have the opportunity to pursue their dreams." There you have it: the new American dream of not working.
All of this is one more contradiction of the arguments that were used to sell ObamaCare. The law would reduce health-care costs and shrink the deficit, you could keep your health plan and your doctor, and businesses could hire more workers and be more competitive. All of this is turning out to be false, and now we learn that the law is a job destroyer that is removing rungs from the ladder of upward economic mobility.
'The ultimate elitist argument': Tucker Carlson blasts White House spin on projected Obamacare job losses
..."Jay Carney said today that this is an

opportunity
to spend more time with their kids, to have different work opportunities," she said.
"I don't know why I'm laughing, it's so appalling," Carlson responded. "

Game
of them to try, though. 'You're not going to be employed full-time and you oughta be excited about that, because there's a whole world of opportunities out there.'"
He noted the "panoply" of public assistance options that people will have to rely on, not just Obamacare.
"So there is a public

cost
to people not having full-time work," Carlson explained. "This is devastating to the Democrats' prospects in 2014. It's devastating to the country, I would say."
Hayes explained that the White House has been "forced to spin these numbers. The problem is the spin just doesn't work. Either we are going to have 2.5 million fewer people — full-time equivalent — in 10 years, or you are going to have people working the equivalent amount, fewer hours. That's not good for the economy! It's not good in any possible way!"
Carlson later added that the spin, even if forced, is insulting. "It's the ultimate elitist argument," he declared. "It really is! It's the kind of argument that resonates in Marin County. You know? 'I wish I had more — now that I've sold my

company
, the IPO's been successful, I'm gonna take some more me time!' That's just not an argument that people that work for a living can relate to."
PK'S NOTE: No, Congresswoman, your job is to be a part of the legislative branch.
By Patrick Howley
Democratic Rep. Sheila Jackson Lee said that the new Congressional Full Employment Caucus will "give President Obama a number of executive orders that he can sign."
Jackson Lee added that writing up executive orders "should be our number one agenda."
By Patrick Howley
The company that built the failed Obamacare website received six additional contracts from the Obama administration's Centers for Medicare and Medicaid Services after the website's disastrous launch, The Daily Caller has learned.
According to a company spokesman, CGI Federal was awarded six additional contracts from CMS worth approximately $37 million between October 1 — when the over $600 million Obamacare website launched — through January 2014.
CGI Federal is the U.S. arm of the Canadian company CGI Group, and was formed in 2009 to bring CGI into the federal contracting business. The company employs Michelle Obama's Princeton classmate, and 2010 White House Christmas guest, Toni Townes-Whitley as a top executive.
By Jessica M Vaughan
....According to closely-held metrics kept by the two main enforcement agencies in the Department of Homeland Security, House Republicans have a legitimate point. Border Patrol Chief Michael Fisher recently disclosed at a conference that his agents arrested 420,000 illegal border crossers in 2013, marking the second straight year of increases and suggesting that significantly more people are trying to enter illegally over the southwest border, especially in South Texas. This admission upset Obama's political appointees at DHS, who had not yet decided how to explain this glaring contradiction of their claims that illegal immigration is a thing of the past.
Meanwhile, enforcement in the interior has fallen off alarmingly in the last several years. Leaked internal statistics show that Immigration and Customs Enforcement agents are arresting many fewer illegal aliens inside the country, and removals from the interior have declined more than 35 percent since 2009. Arrests declined in every part of the country, with the biggest drops in Georgia and the Carolinas, where 62 percent fewer illegal aliens were picked up It's not because there are fewer illegal aliens to arrest. Experts agree that the size of the illegal population has not budged much in several years from about 11.5 million, and seems to be growing. It includes nearly 900,000 people like the president' s uncle, who have been ordered removed at least once, but who refuse to leave because no one makes them.
These numbers call into question the Obama administration's claims of "record" deportations and "smarter" enforcement that they say surpass all previous administrations. These claims have been a key talking point for proponents of amnesty and the Senate bill, which sought to undercut enforcement in numerous ways. Advocates for illegal aliens, including the newly legalized "Dreamers," have taken to the streets and to the halls of the Capitol, staging vigils, confrontations and even disrupting the lighting of the Capitol Christmas tree, demanding a stop to all deportations.
As it turns out, the administration's claims of record deportations are "a little deceptive," as the president once told a group of Latino journalists. A little! Internal documents made public as part of a lawsuit by ICE officers against their own agency confirm that ICE has been padding its deportation numbers by taking credit for removing tens of thousands of illegal border crossers who were arrested by Border Patrol. They were held in ICE detention centers for just a few hours before removal. These cases represented about half of all deportations in the "record" counts of the last two years.
This is how the administration has been able to cover up plummeting interior arrests and give the false impression that they are vigorously enforcing immigration laws. In 2013, ICE agents encountered more than 700,000 aliens who could have been removed (which is a record, thanks to new resources from Congress). Most were found in jails. But they took action against fewer than 200,000; meaning that ICE is now releasing more illegal aliens—including criminal aliens—than it is arresting.
This smoke and mirrors game is taking a toll on public safety and the rule of law.
PK'S NOTE: Be glad that if you're interested in the Olympics that you're home watching it on TV:
By Ed Morrissey
...Sportswriters from around the world have begun cataloguing a litany of accommodation-related woes in Sochi, Russia as organizers scramble to finish the construction of some hotels three days before the Opening Ceremony of the Winter Olympics, and two days before some competitions get underway.




Journalists have been trickling into the Black Sea resort town all week ahead of the most expensive Winter Olympics in history. Russia has spent $51 billion making all ready for the 17 days of competition, but organizers admitted earlier last week that three of the nine media hotels were not completed.


The Guardian's Moscow bureau chief Shaun Walker reportedthat when he tried to check into his room at midday Tuesday, he was told by a receptionist, "Your room is still under construction. They are literally finishing, the keys are literally coming now." Three hours later, Walker reported the same receptionist offered him a different room "with no heating, a single bed, and permeated with the odour of industrial glue."
Twitter heard from Chicago Tribune reporter Stacy St. Clair, who may have explained why vodka is very, very popular in Russia:
Stacy St. Clair

@StacyStClair


My hotel has no water. If restored, the front desk says, "do not use on your face because it contains something very dangerous."




Water restored, sorta. On the bright side, I now know what very dangerous face water looks like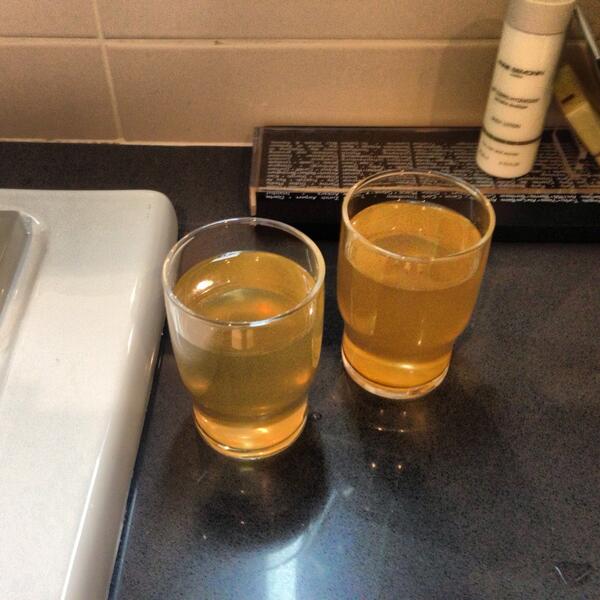 ...Update: Speaking of security, don't connect to the wi-fi networks, either:
"As tourists and families of athletes arrive in Sochi, if they haven't been warned, and if they fire up their phones at baggage claim, it's probably too late to save the integrity of their electronics and everything inside them. Visitors to Russia can expect to be hacked. And as Richard Engel found out upon his arrival there, it's not a matter of if, but when," reports NBC's Brian Williams.




Engel says, "The State Department warns that travelers should have no expectation of privacy. Even in their hotel rooms. And as we found out, you are especially exposed as soon as you try and communicate with anything."




"One of the first thing visitors to Russia will do is log on," says Engel. "Hackers here are counting on it."
What a wonderful venue the IOC chose! What's next, Summer Games in Kim Jong-un's gulag?
By Renee Nal
Would you ever consider the question 'Whom do you want to be president?' to be asked of your third grader during a math class (or any class)?
Would you expect your fourth grader to be asked to create a chart of presidents along with their political persuasions? Or, how about a discussion on whether the 2000 presidential election resulted in a "fair" outcome? Or, what if the teacher for your sixth grader was advised to "be prepared" to discuss the "politically charged" 2000 election - all during math.
Common Core aligned, of course.
...The National Council of Teachers of Mathematics will be holding a conference April 9-12 in New Orleans where they will be discussing
"such crucial issues as formative assessment in the common core state standards, number and operations, social justice, teaching computational fluency with understanding, leveraging technology, and supporting new teachers." [Emphasis added]
Social Justice? During math?
By Eric Owens
....Math teachers using this lesson are supposed to begin by engaging their math students "in a discussion about the Presidents of the United States" including party affiliation.
The lesson plan then offers three websites for obtaining information about American presidents. The "recommended" site is a page entitled "Presidents" at the website Infoplease.com.
The page links to a biography of each president and provides some key facts about each president including their home states, their ages at inauguration and their religions.
Abraham Lincoln's religion is listed as "Liberal."
Any math student who surfs over to the Infoplease.com biography of Ronald Reagan is in for a treat. The page duly explains that Reagan's "'supply side' economic program" of "tax cuts and sharp reductions in government spending" led to "the worst recession in 40 years" and a "constantly growing budget deficit." The roaring economy and the huge plunge in both inflation and unemployment that ensued rate nary a mention.
By Bruce Deitrick Price
,,,Common Core was never something the public asked for. It was schemed and dreamed by the Education Establishment. It became a reality only because Obama had "stimulus money" that he could channel into grants (in effect, bribes) for semi-bankrupt states circa 2009. Lots of glorious excuses and rhetoric were thrown at the country to make this hot-air balloon fly. Many intelligent people such as Huckabee supported it. Many people who should know better, such as the business community, supported it. Many liberal newspapers, to no one's surprise, supported it in their usual robotic fashion. So for a few years there was a genuine Common Core tsunami flooding across the country.
Then individual citizens learned what was inside this thing. They realized, for one thing, it was an exact parallel with ObamaCare. A huge overreach by the federal government, packed with untested theories and methods, the whole thing sort of scaffolded up with popsicle sticks.
As famed educator Siegfried Engelmann explained, "Common Core is a perfect example of technical nonsense. A sensible organization would rely heavily on data about procedures used to achieve outstanding results; and they would certainly field test the results to assure that the standards resulted in fair, achievable goals? How many of these things did they do? None."
The essential problem with Common Core is that there's nothing new. It's really a repackaging of all the bad ideas that John Dewey and his progressive educators came up with in the last 80 or 90 years. The basic idea is to teach children less because that's considered fairer. Johnny can't feel superior to Jack if neither one knows very much. Now, this approach may lead you to socialism, but it will definitely not lead you to an educated country.
...
Charlotte Iserbyt's famous phrase "the deliberate dumbing down of America" seems more apt than ever.
The paradox we see in education is the same as that in the economy. The president talks about progress and success, but his political philosophy militates against success. Success would mean that rich people would get richer in some cases, and it would mean that smart people learn a lot more in some cases. And we can't have those outcomes. Indeed, they are carefully prevented. So Obama's rhetoric notwithstanding, his policies lead to intellectual and economic stagnation.
As Robin Eubanks asserts in Credentialed to Destroy (which may well be the most important book on education published in many years), "[w]hat is being marketed as the Common Core national standards and accompanying ed reforms is actually a planned, centrally coordinated, interrelated, complete reorganization of American education. Designed to change students from the inside-out so they will lobby for social change now. And vote for it later. These so-called 'reforms' eliminate practices, like the transmission curriculum, that evolved because they worked and created prosperous practices and useful, marketable knowledge and skills. And a spirit of individualism that has created great innovations. ... Common Core would be a bad idea if the intentions of its planners were for the best. But they are not."